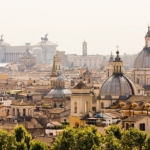 June 24 is confirmed the presentation of the New Pythagorean School in the City of Rome in view of the official foundation which will take place in Crotone in the second half of August 2016.
The event is a cognitive meeting and a party open to all.
They will explain the objectives and the spirit that animates the project N.P.S.
Follow the Pythagorean Sissizio (banquet) where it will be introduced and consumed the Ox Bread, archaic representation that celebrates the end of violence.
Then we resume the old tradition of Italis that Pythagoras raised the communal ritual dignity.
A convivial banquet where everyone is free to bring food and drink, sharing the atmosphere of joy with others.
We exclude products based on meat or fish, as provided for the original rite of Pythagoras and King Italo.
The event takes place in Viale Castrense 48/d, at the Association A.R.A non-profit organization, courtesy for the occasion, a short walk from the metro station S. Giovanni.
Start scheduled at 18:30
Everyone is invited to attend and free to invite other people.