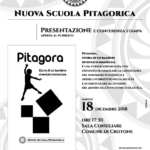 Pythagoras - The story of a child that became immortalis the text that the New Pythagorean School has produced, after two years of research, to spread the knowledge of the Pythagorean philosopher, especially in schools and within society.
The publication will be officially presented Tuesday, December 18 at 17:30 at the Council Chamber of the City of Crotone, the organization that has collaborated with the NSP association to the cultural initiative.
This project was born with the aim of stimulating the knowledge of the Pythagorean phenomenon and opening a debate in society and in particular within the world of school education. It represents the starting point for a series of activities in various fields to be programmed over the years.
The contents of the work are the result of studies and analysis carried out within the New Pythagorean School, thanks to the contribution of its members spread all over the world.
Finally, after about 2,550 years, long-awaited initiatives are taking place in the city of Crotone. First of all the creation of the statue in honor of the first philosopher who was still incredibly lacking. first philosopher che incredibilmente ancora mancava.
The New Pythagorean School, since its official foundation in August 2016, has immediately started to support and propose various projects in order to stimulate activities related to the figure of Pythagoras, and to create initiatives to rediscover and discuss the Pythagorean phenomenon, father of the development of rationalism and of the birth of Magna Graecia. Magna Graecia.
In addition to contributing to the promotion of international twinning with the Island of Samos, and organizing various meetings and conferences, in recent months the NSP has also defined, together with the Municipality of Crotone, the important project of the Pythagorean Way, which once completed will bring an important social, tourist and economic repercussions.
The text Pythagoras - The story of a child that became immortaltherefore represents a starting point for approaching the understanding of events in the life of Pythagoras and the city of Crotone.
From this point we start to begin to realize many initiatives in the cultural and artistic that will lead to definitely enhance the figure of Pythagoras, today, in the Pythagorean city.