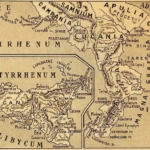 Il On July 2nd, at 19:30, at the Pythagoras Gardens and Museum in Crotone, will take place the first day to celebrate the birth of Italy. A historical phenomenon in many ways little-known but which plays a crucial role in the development of humanity.
Around 2000 B.C. Italy was founded in the present Calabria, based on sharing, equality, friendship and freedom. This event greatly influenced the cultures of the peoples of that time and above all contributed to attract Pythagoras to Crotone of Italy to create its great ethical and philosophical project.
The New Pythagorean School intends to give great emphasis to this historical aspect and invites everyone to participate on the first Sunday of July at what will be a festive celebration, followed by a syssitia, a convivial banquet that most historians attribute to the phenomenon of founding of the first Italy and then Pythagoras resumed about fifteen hundred years later in his italic School.
We will share, in a climate of friendship and harmony, not only information, but also food and drink. Anyone can bring something to be eaten or to drink, vegetarian based, to respect and recreate that spirit and that event as it was set up by King Italo and later by the philosopher Pythagoras.