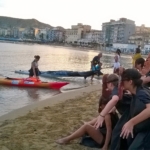 The final stage of the kayak trip to Magna Grecia was a success.
A moment filled with emotions that deeply involved the participants, the organizers, and in particular the two athletes Vanessa and Francesco who left one from Reggio and the other from Taranto traveled about 440 Km stopping daily in various locations including Locri, Metaponto and Sibari, then to reunite and find themselves on July 15 in Crotone, greeted by a wonderful celebration of the Olimpia Dance School.
The Pythagorean city is the closing frame of an event that sought to retrace and rediscover Magna Grecia, the Ionian Coast, a place that today is experiencing a difficult situation but which is a key point for the development of humanity.
Italic values ​​of equality, friendship, rationality and spirituality that attracted Pythagoras to Crotone around 532 BC are now needed to resume common awareness to live well.
There were a lot of people and organizations who contributed and allowed the two athletes to do this exploit. Thanks to all of them on behalf of the New Pythagorean School, it is difficult, but we are reminded of the Friends of Taranto who, in addition to welcoming Francesco in his departure, delivered to Crotone a wonderful message of harmony, read in public during the awards ceremony.
Then it is worth recalling the work behind the scenes from Salvatore, Alessandro, Mimmo, Antonio and the many others who followed the boats along their route and in the various stages.
Of course, the greatest thanks go to Vanessa and Francesco who have shown us how the will can allow us to reach and desire what seems impossible.