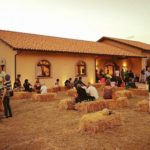 On Friday 22nd February 2019 at 18:30 a meeting with Salvatore Mongiardo will be held at the Mulinum in San Floro. Thanks to the extraordinary work of Stefano Caccavari, Mulinum has now become one of the most interesting initiatives in the entire regional and national scene.
The New Pythagorean School therefore accepted with extreme happiness the invitation of Stefano, to discuss with the themes of the first Italy, of the Syssitia, of the Bread Ox, of the Pythagoreanism, of the Magna Graecia, and therefore of the future of our territory and of the entire planet.
Appointment in San Floro (Cz) next Friday, the Mulinum is waiting for you!