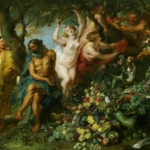 Saturday, 11 February at 17:30 in the Museum – Pythagoras Gardens there will be an important cultural event about Pythagoras and pythagorean phenomenon.
A moment of reflection, learning and comparison open to all, with the participation of professors, archaeologists, tour guides and passionates.
Have already confirmed their participation: Prof. Antonella Cosentino, deputy mayor and councilor for culture, the archaeologist Francesco De Marco, Dr. Salvatore Mongiardo, Prof. Francesco Lopez, Dr. Luciana Proietto, plus many others professionals. The event is free and open to all.
The initiative promoted by the New Pythagorean School in synergy with the town of Crotone, intends to start a widespread knowledge on the topic path to allow school teachers of all levels, to travel guides, commercial operators and all citizens, to confront, discuss and learn foundamental information about the socio-cultural revival of the "Pythagorean City".