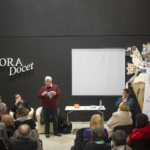 "Let's talk about Pythagoras": the event organized by the New Pythagorean School it was an important moment of cultural and philosophical confrontation of ideas and information exchange, mainly oriented to tourist guides but also to professors, passionates and onlookers who could freely participate in this first happy encounter, took place on 11 February at the Museum Gardens of Pythagoras in Crotone.
The New Pythagorean School has in fact among its own objectives to involve with harmony, people and organizations, to discover, to study, disseminate and promote the Pythagoreans universal principles that are at the basis of being.
In this occasion are therefore emerged several ideas and philosophical analysis in search of the historical Pythagoras, the strengths to be used also in key tourist and popular science to support communication and the development of the Pythagorean city and what was Magna Grecia.
Among the many topics we mention the birth, thanks to Pythagoras and his Italic school, of the term philosopher, coined in Crotone, of the cosmos, the great influence among others on Plato, who attended for many years Crotone and the Pythagoreans, the psyché understood as life, a whole between soul and body, the reconciliation of the feminine and masculine element, respect for animals and nature, basing everything on the famous philìa, the friendship.
Among those present at the meeting, in addition to the many professionals and members of the NSP, also came from other Italian cities, and the philosopher Salvatore Mongiardo, archaeologist Francesco De Marco and Prof. Francesco Lopez, attended the Prof. ssa Antonella Cosentino, vice-mayor and councilor for culture, which has renewed gratitude to the New Pythagorean School for cultural and organizational cues offered since the implantation of the new municipal administration, announcing first of all the international twinning with the island of Samos in Greece, arrived at the closing ministerial stages of red tape and thus culminate soon with the solemn official ceremony which will bring the connection and collaboration. The deputy mayor has also ensured the full willingness and readiness to support all initiatives aimed at recovery and cultural development.
In an organic synergy of growth and harmony, will continue the activities and training sessions aimed to guides and tour operators, but also for teachers, professors and for education community of all levels, ensuring maximum freedom of comparison and participation.